We are half way through our six-week Thursday hand tool skill building series.   In the first two sessions, participants learned to sharpen chisels and planes.   In the 3rd session, instrument maker Martin Macica taught the principles of hand-cut dovetail joinery using traditional methods and tools.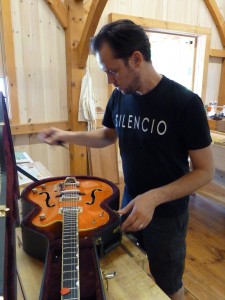 The class consists of both beginners and experienced woodworkers looking to add some techniques to their repertoire.  Jeff Kadlic, who owns his own guitar making company Champtone Guitars, participated in the first two weeks of these classes to learn more about sharpening edge tools by hand.
Here is a gallery of pictures from this series and last Saturday's Shooting Board Class.  Next Spring, the six week series of classes will be scheduled on Friday afternoons.    Be sure to use the subscribe area to the right to receive updates on upcoming classes.